Submitted by termidzi.mahmod_7807 on Tue, 04/24/2018 - 10:43
A loft structure or a "free-standing furniture platform" is a term commonly used in some of the recent projects in Singapore. Typically adopted at places with sufficient width and a void space or high ceiling, it allows you to maximise the space underneath for items such as a desk, shelf, futon, dresser or computer table. It is a great space saver and best of all, kids of all ages love it.
For children with small bedrooms or multiple kids sharing a room, a loft bed allows for more bedroom space, and everyone gets to sleep on top. It helps you to utilise your space more effectively and maximise the available space in your room.
A loft bed allows for more bedroom space, and everyone gets to sleep on top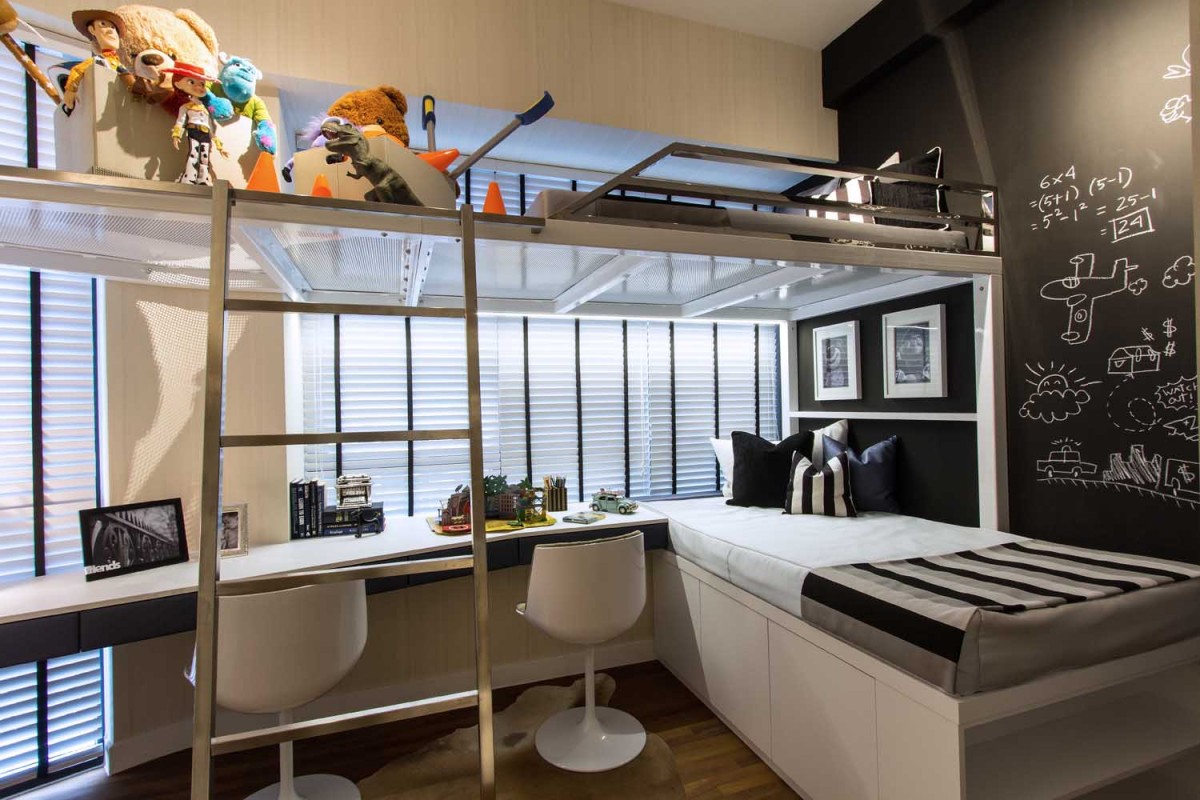 A loft bed is good for a small bedroom be-cause you can open up more floor space. The space underneath is a good place for a desk or play area. Consider installing a homework desk under the loft bed. This is a great solution for kids who need a dedicated place to study or set up a computer. Another option is to install seating, a bookcase and a lamp for a personal library.
A loft structure gives you extra storage space. The space underneath a loft structure is one of its most popular features. If you do not need a workspace, you can always put the extra square footage to good use by installing a wardrobe, kitchen cabinet, shoe cabinet or other important things. The extra storage space becomes valuable when implemented at the right areas.
The space under the loft can house an entire kitchen
A wardrobe and study area below a loft
The extra space is also useful for families. A tall loft structure with a height of about 2.4m accommodates great pieces of furniture for growing families. The additional space created allows for secondary function without compromising on the comfort of whatever is below. The structure can be anchored next to a floor-to-ceiling bookcase. The tall book-case not only adds plenty of storage but also warmth and texture to what would otherwise have been a sterile room.
A study loft above the living room and an open kitchen
Angela Lim is the co-founder of SuMisura, a multiple award-winning ID firm with an extensive portfolio of expanding show houses and the official ID for the tallest residential building in Singapore and Malaysia, The Astaka, when it completes in 2018. Better known for her glamorous, haute couture show flats, Angela's works has garnered the interest of many design magazines and press.
Image: